About RIDE
RIDE is a secular, non governmental organisation dedicated to empowering poor and disadvantaged residents of rural Tamil Nadu, to improve the quality of their own lives. Since its formation in 1984, RIDE has established itself as the primary advocate on behalf of children laboring in Kanchipuram's world-renowned silk looms, and as leaders in providing a broad range of services to the rural poor of Tamil Nadu.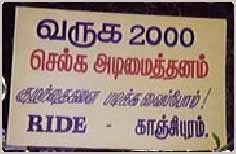 RIDE's successes over the past 17 years demonstrate the broad range of the rural population who have benefited from RIDE's programs.

organizing unions among landless agricultural workers in Dalit communities

advocating to government officials to enforce laws requiring the provision of free education and prohibition of child labor

presenting cultural programs, folk songs, dramas, and dancing to communicate the value of education and apprise rural families of their legal rights

educating children in communities not adequately served by government schools

training women in carpentry, batik work, tailoring and other vocations at its Arpakkam Training Center

marketing the products of rural crafts people at government Gram Sri Melas

bringing essential health services to isolated rural communities through medical camps and vaccination programs against polio and tuberculosis

assisting the Kanchipuram District Collector to obtain the release of 1,400 child laborers from Kanchipuram's renowned silk looms


RIDE has been a pioneer among social justice organizations. RIDE was:

the first non-governmental organization in Tamil Nadu to participate in World AIDS Day and conduct AIDS awareness programs

the first nongovernmental organization in Tamil Nadu to conduct voter awareness seminars

the first nongovernmental organization in Tamil Nadu to train women in carpentry

the first nongovernmental organization in Kanchipuram District to organize women into Self-Help Groups

RIDE's history fighting child labor abuses


RIDE has been a leading advocate for the eradication of child labor in Tamil Nadu since 1984. Initially, RIDE focused on raising public and governmental awareness of the severity of the child labor problem and securing the enforcement of laws banning child labor and mandating free education. Largely because of Kanchipuram's reputation as the origin of the highest quality silk saris in India, RIDE quickly established itself as the primary advocate on behalf of children working in the silk looms. RIDE led the successful effort to have the silk industry classified as one in which children cannot legally work. RIDE continues to be one of India's leading authorities in the field.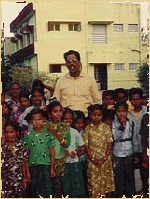 While continuing its advocacy efforts, RIDE sought to prevent parents from enlisting their children in child labor by opening day schools in rural villages not adequately served by public schools. RIDE expanded its educational campaign in 1994 by opening five evening schools in and around the city of Kanchipuram to instruct 150 children forced to work in the silk looms during the day. Five evenings each week, these schools provide basic education, nutrition, and recreational activities in the nurturing environment so critical to a happy childhood.
Following a December 1996 decision by the India Supreme Court ordering local governments to actively enforce child labor prohibitions, the Kanchipuram District Collector turned to RIDE for assistance. Working with RIDE, the local authorities initially freed 85 child weavers from bonded labor and financially compensated them and their families. RIDE provided key support to these families during this period by, among other things, coordinating the donation and distribution of clothing and medical services. RIDE also held educational sessions for the parents of the freed laborers to inform them of their legal rights and the long-term benefits of returning their children too school. In addition, RIDE convened a meeting of parents and the District Collector, helping each side to understand the needs and concerns of the other.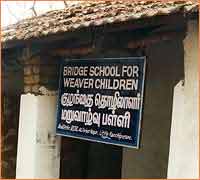 Realizing that newly liberated children are ill-equipped academically and emotionally to enter the public school system, RIDE opened the first of its Bridge School Centers in 1999. In these schools, RIDE educates and counsels newly liberated child laborers to prepare them for a successful transition to the government schools. These Bridge School Centers focus not only on remedial education but also on re-instilling in the children productive learning habits and a healthy and positive outlook on the school experience.
In the fall of 1998, RIDE surveyed 4,000 families in the city of Kanchipuram, and identified 2,100 children working full-time in silk looms. This survey was the first to attempt to measure the magnitude of the child labor problem in the silk industry.

Home | About RIDE | Issues | Programs | Eco-Tourism
Handicrafts | Volunteer with RIDE | You can Help | Contact RIDE
© Copyright 1999 RIDE